4-Hers Compete in Regional Chicken Show
On May 14, 2015, the soccer field at Bladen County Parks and Recreation on HWY 701 in Elizabethtown was converted to a show field for the evening. A show for chickens! We had forty-five youth ages 5 to 18 involved in 4-H and FFA from counties across the region come out to show their hens and broilers that they have been raising and caring for over the last few months.
In order to participate, the youth had to register in January through their school FFA advisor or their 4-H or Livestock Agent through N.C. Cooperative Extension. They had to choose whether they wanted to raise laying hens or broilers. At least two required trainings were provided in each county to teach the youth about proper care, biosecurity, showmanship techniques, record keeping, and more. Three areas of competition were judged including showmanship which is the handling of the bird and being able to verbally share their knowledge about the anatomy and breed to a judge; breed which the judge compares the overall look of the bird including fullness, color, health, etc.; and project record books which is a written record of knowledge gained and evidence of learning through the project.
This is the first year that we have offered the Regional Chicken Project in our area. Initially, over eighty kids signed up representing Bladen, Columbus, Cumberland, Duplin, Hoke, Pender, and Robeson Counties. Recognition and ribbons were given to all Cloverbuds ages 5 to 8 for their participation in showmanship and project record books. Cloverbud participants included the following: Allyson Hatcher, Lindsey Hatcher, and Cresson Ivey of Duplin County; Terra Lynn Edwards, Caleb Locklear and Naomi Edwards of Hoke County, and Delainey Smith of Cumberland County.
Ribbons were presented to the following youth for their achievements in Junior Showmanship division: Amelia Harris 1st place, Luke Barber 2nd place, and Jacie Kinlaw 3rd place. The Senior Showmanship winners were as follows: Will Hall 1st place, John Faatz 2nd place, and Destiny Everitte 3rd place. In the breed classes, the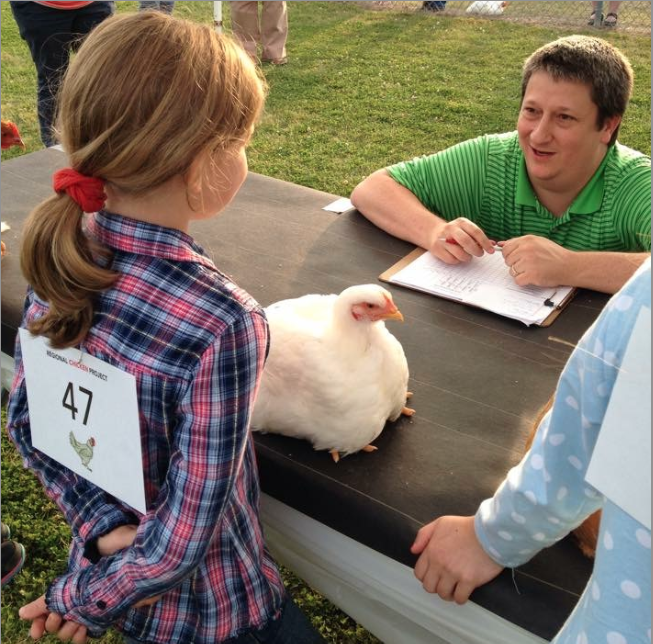 awards for best hens went to Socoria Hunt 1st place, Lee Barnes 2nd place and Olivia Barnes 3rd place. The awards for best broilers were presented to Lianna Edwards 1st place, Alora Edwards 2nd place, and Naomi Edwards 3rd place. These individuals also received cash prizes in the amounts of $20 for 1st place, $15 for 2nd place, and $10 for 3rd place finishers.
The youth were also recognized later for their achievements in completing required project record books documenting their individual chicken project. Winners received ribbons and cash prizes in the amounts of $15 for 1st place, $10 for 2nd place, and $5 for 3rd place. The project book winners in the 4-H 9 to 10 year old category were 1st place Hector Hughes, 2nd place Lee Barnes, and 3rd place Jacie Kinlaw. The 4-H 11 to 12 year old winners were 1st place Amelia Harris, 2nd place Hannah Wood, and 3rd place Marla Hughes. The 4-H 13 to 15 year old winners were 1st place Olivia Barnes and 2nd place Alora Edwards. The 4-H 16 to 19 year old winner was Lianna Edwards. In addition, the FFA students completed project books, as well and competed in two age categories: middle school winners were 1st place James Faatz, 2nd place Miriam Davenport, and 3rd place John Faatz. The high school FFA project book winners were 1st place Destiny Everette, 2nd place Abigail Moncrief, and 3rd place Justin Locklear.
Parents reported that their children had a stronger desire to care for animals and increased responsibility as a result of their participation in the Regional Chicken Project. For more information about youth livestock programming in your county, please contact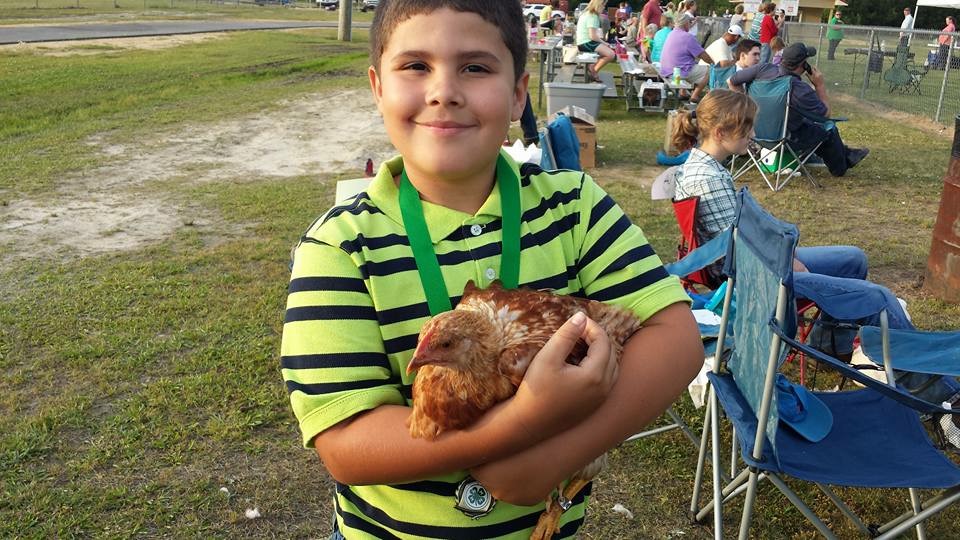 Cathy Brown at the N.C. Cooperative Extension Office at 910-875-2162.