Hoke County 4-H Youth Attend NCACC Youth Summit
A 4-H'er from Hoke County attended the fourth annual North Carolina Association of County Commissioners (NCACC) Youth Summit, which was held in Greensboro, North Carolina    August 23-24, 2013. North Carolina 4-H and the North Carolina Cooperative Extension Service partnered for the fourth year with the NCACC on a multi-year initiative to increase youth involvement in county government. This initiative aims to overcome the mindset that many youth are disengaged and lack trust in government.
The 4-H'er who attended from Hoke was Abigail Clark, daughter of Angie and Eric Clark. Over 100 youth and adults from 74 counties in North Carolina attended this event. The event is sponsored and supported by the North Carolina Association of County Commissioners.
Part of the requirements to attend was to experience civic education. Abigail experienced it first hand by attending a County Commissioners meeting and writing about her experience. The night she attended allowed her to witness first hand, local issues that affect the citizens and the process that our commissioners go through in making the decisions for our community. This whole experience was a great opportunity to involve youth in county government.
For more information on the 4-H program in Hoke County, please contact your local North Carolina Cooperative Extension office at 875-2162.
The 4-H program is the youth education program of North Carolina Cooperative Extension, based at North Carolina State and North Carolina A&T State universities. More than 237,590 young people ages 5 through 18 participate in North Carolina 4-H activities each year with the help of 20,780 adult and youth volunteers.
For more information about 4-H contact Cathy Brown, Extension 4-H Youth Development agent, at the Extension Center, by phone at 910-875-3461, or by E-mail at Cathy_Brown@ncsu.edu. For more information about Extension visit our website at https://hoke.ces.ncsu.edu.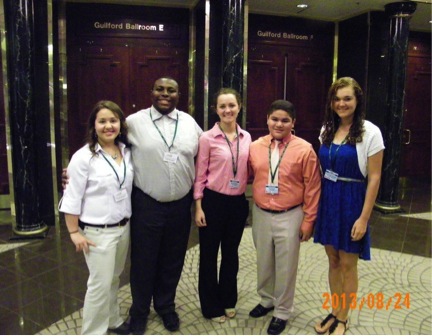 Photo caption
Delegates from the South Central District 4-H Youth Council. Abigail Clark on left.